Writing to you again from Winter Haven, where we have been dealing with some weather. Yes, there's been some rain, but not enough to damper the Blog Cabin parade. We've been hard at work creating a fantastic and unique lakeside bungalow, with your help, of course.
Photo: DIYNetwork.com, courtesy Flea Market Flip
For those of you following the voting results, you've chosen a pot rack as opposed to an upcycled chandelier in the kitchen, opting to include an upcycled pendant fixture in the master bathroom instead. So I've been having fun exploring some shining examples of this new trend – repurposing both ordinary and extraordinary objects into gorgeous chandeliers. Take a look at some of the stunners I found.
Bean There, Done That
Photo: UpcycleThat.com
Innovation meets nostalgia. Dutch designer Willem Heeffer created this amazing light fixture – fashioned from vintage bean cans. The best part about upcycling is that you're able to reuse the items that you feel personally connected to and want to look at every day. This charmer is sure to make the child inside the chef smile every morning.
Reading Lamp
Photo: DIYNetwork.com
For all of you literary types, a light like this might be just for you. Fashioned out of pages of a book and binder clips, this project would allow you to read by the glow of your favorite quotes and passages all the time. Wouldn't it be great in a library?
Basket Case
Photo: HGTVRemodels, courtesy Walter Yarosh
This old factory basket has followed the light into a beautiful afterlife. Without stealing any attention from those gorgeous ceilings, this exceptional chandelier creates huge visual interest. And you're probably not going to have to worry about guests exclaiming, "Hey, I have that same light at home…"
Keep It Fresh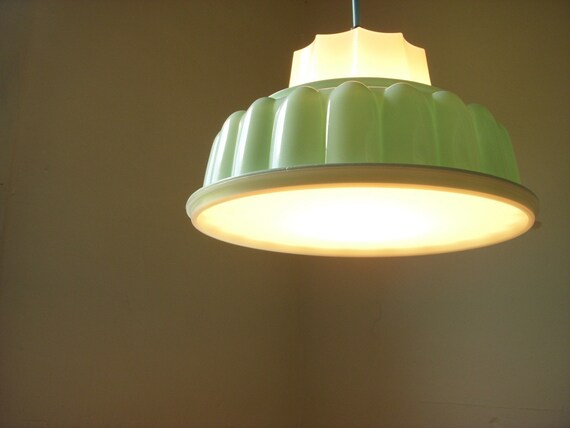 Photo: Etsy.com, courtesy BootsNGus
I know, I know – you picked the pot rack. But I couldn't help myself from checking out some clever kitchen upcycles. I would much rather use this container as a darling light fixture than make a Jell-O mold, who's with me?  And if you don't have the time or the patience for a DIY project at the moment, take a look at Boots N Gus' Etsy store to find some truly gorgeous upcycles, made in Ann Arbor, MI.
Man, I could geek out over this stuff for hours! But for now…
@HGTVcounselor Instagram
Back to work, Eastman and March!!! Be sure to vote here on the latest 2014 Blog Cabin features and finishings!