Photo: HGTV.com

Some design elements are truly trendy. They arrive, they make a scene and then they float away. Sometimes, however, a trend transforms into a classic staple. We've seen honeycomb or hexagon patterns in everything for chicken wire to chic shelving and for good reason. Large or small, this graphic arrangement brings a sense of stability, order and high design to any space. Here are a few ways you might think about bringing that honeycomb home:
Tile it On
Photo: HGTVRemodels.com
I have some reservations about tile countertops – mostly because the square tiles set a very commanding tone in a smaller kitchen space. This gorgeous hexagon counter, on the other hand, is fresh, interesting and traditional at the same time. I love the green-greg tones, too.
 A Splash of Honey
Photo: HGTV.com
Hexagons for the modern age! This stainless steel backsplash would look so much harsher if it were done using square or even rectangular tiles. The hexagon shape used at this scale brings to mind a feeling of efficiency and order, but will also allow any pop of color you choose to steal the show. It's as hardworking as any worker bee that might have made it.
Open Up
 The open hexagon wallpaper is a complete scene-stealer in a this small, uber-cute bathroom.
Homey Honey
 Photo: HGTV.com

This charming child's bedroom is completely completed by the hexagon wall treatment. If this six-sided style speaks to you, check out the how to here. Feel free to change up the color scheme to suit your home's needs. Whatever hues you choose, this feature wall will hold its own as your child grows.
Headboard Hexagons
 Photo: DIYNetwork.com

This gorgeous, masculine headboard is well served by its honeycomb shapes. There's something very comforting about the shape's symmetry that is sure to put the most restless mind at ease. Want to try to DIY – check out how here.
Chic Shelving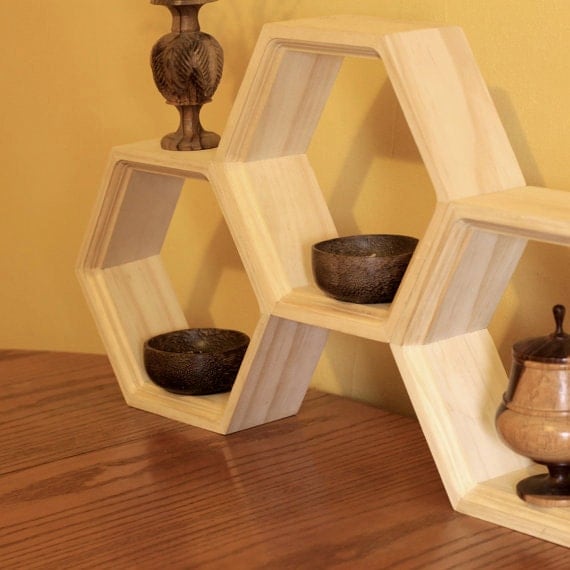 Photo: Etsy.com

The hexagon/honeycomb design has been representative of strength for so long – it makes perfect sense to incorporate it as shelving. This fantastic shape seems to create a little home around each item on the shelf, keeping everything safe from harm while looking good.
So what do you think about the shape? Are you hoping for hexagons in your home, or happy to say heave-ho? Before you officially decide, take a look at the gym wall  created using hexagon mirrors! Let me know what you think!