Photo by Daniel Collopy
Meet my man, Newton. He and I have been together since I found him in a shelter more than five years ago and now he pretty much rules the roost.  I have to say this boy can eat.  And while I appreciate his appetite for life, I'd like to reclaim some of the space taken up by his food, dishes and well, less than perfect table manners. So this year I've decided to work on classing up Newton's dining station. Here are a few ideas I've had while redesigning my own canine's kitchen.
Can It
Photo: HarryBarker.com

We all know you can save a lot of money by buying in bulk, and pet food is no exception. Those giant ugly bags, however, can be a real eyesore and tend to spill easily. There are several plastic storage containers on the market, but I've personally been drawn to the old fashioned canister. Harry Barker carries some really attractive options. I like these classic black and white ones because they remind me of an old general store.
Stick With Your Style

Photo: HGTV.com, Castro Dog Bowls

Since you've come up with a certain feel to your home, there's no reason you can't continue to express it with your pets' dishes. These space age pet bowls would complement more modern design perfectly. If you've got a more rustic style, check out this how-to on building your own custom pet food station. Bottom line, don't feel like you have to settle for plain old bowls on the ground – keep your eyes peeled for something that enhances your home.
Matching Mats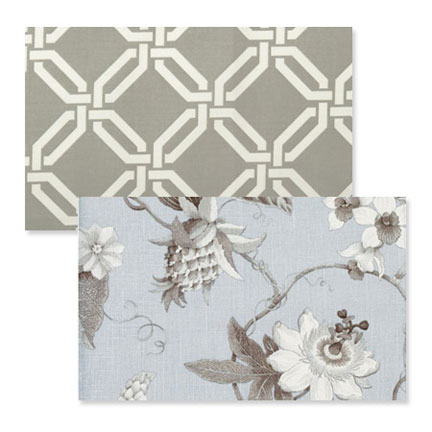 Photo: GraciousStyle.com
There are many cute and kitschy pet placemats on sale in pet stores and with good reason. Our pets can be messy eaters, but these handy mats don't always have to feature paw prints and brightly colored bones. Look in home accent stores for actual people placemats. You'll want the material to be easy to wash. Sure these mats are meant for the animals, but everyone has to see them – so feel free to find some that look good to you. Believe me, our furry friends are much more interested in the dinner than the tablescape.
Toe-tally Hide It
Photo: HGTVRemodels, Courtesy Michael Anschel
I've talked in the past about my friend, Michael Anschel's amazing toe kick kitchen storage drawers. If you're a pet-lover lucky enough to be redesigning your kitchen, you might want to think about installing one of these to house your best friend's water and food bowls. When its time to eat, simply open the door, but when feeding time is over, you can hide everything away.
Paws for a Treat
 Photo: HGTV.com, Courtesy Manvi Drona-Hidalgo
Incorporating your pet's dining area into your home's design is just another way of expressing that our animals are a part of our family. Once you've dressed up their dining areas, you might want to try this delicious recipe for peanut butter delight dog biscuits or any of these healthy and all natural treats for cats and dogs.
So what do you animal enthusiasts think? Have you come up with any new ways to feed your pets in style?