Photo: HGTV.com, HGTV Dream House by Eric Perry

Winter is on its way. Soon we'll be enjoying hot chocolate, cozy sweaters and – unless you're reading this from the Australian outback – some cold weather as well! While you may enjoy a crisp chill in the air on your way to the car, most of us don't want to feel one in our living rooms. Whether it's replacing your windows, sealing them with a DIY kit or simply blocking their drafts, the attention you pay perfecting your panes can pay you back – hundreds of dollars each year.
Start Smart
Photo: HGTV Remodels, courtesy Marjie O'Connor
If you're remodeling or building a new home, you definitely want to look into using energy efficient windows from the get go. Check out this comprehensive guide to finding and understanding window ratings, reviews and the best choice for your home's needs. Sure, these windows might be more expensive to purchase, but they will earn their keep as time goes on – by holding on to your home's warmth in the winter and containing the cool air in the summer.
Repair the Wear
Photo: DIY Network, courtesy Dorling Kindersley Limited
If you're not in the market to replace your windows, but would love to make them more efficient – window putty kits, weather-stripping, or adding a layer of glass to your windows might be good projects for you. Learn how to maintain and/or improve your windows here. If this seems like a job you'd like to delegate, there are window restoration and repair companies who offer consultations. They'll see to it that your windows are sealed in the best way possible. Again, it is an expense, but you'll save yourself money (and some cold toes) in the long run.
Simple Solutions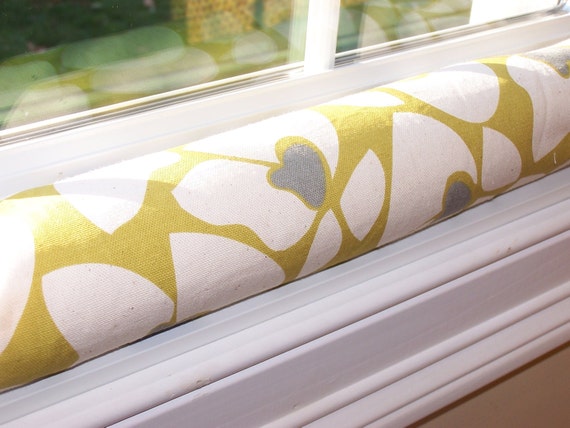 Photo: Etsy.com, courtesy Cathy's Custom Pillows
Sometimes you just need to find a quick fix to keep your home toasty NOW. Plastic shrink-wrap kits for windows, like this one, can be affordable, impermanent options to stop cold air from taking up residency in your house. Another option is the old-fashioned draft stoppers you might have seen under doors. They can also be placed along leaky windows to stop winds from whistling. Many Etsy artists like Cathy's Custom Pillows offer attractive stopper options so that you don't have to exchange icicles for eyesores.
So let's get to it! Now is the time to stop your heating bills from rising too quickly as the temperatures drop.
Fill me in, have you tried any of these winterizing wonder methods at your place?